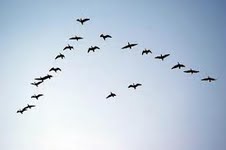 A Word Before You Leave...
Wild Geese, what dauntless power
Blows under your wings?
Vagrants free, swift, gallant-hearted,
What's the world that winks
And beckons you to dash across
The stormy waves of life?
To spread your wings - a drifting cross
Above our woe and strife?
You candid folk, shrug off the haze
Of this world's petty bliss,
Take off, and rise to heavenly ways
That guide you. Don't you miss
The ecstasy of chords divine?
Your buoyant cries foretell
The Real Life's glorious struggle! Enshrine
Our yearnings in a well
Of cleansing grace...
And may your race
Be blessed.
Farewell!
P.S. The fiery leaves sweep after you - they try to leave as well!
Anna Djintcharadze © 2012